Today is Wednesday, and I'm pleased to have Kristin Wallace join us with the third book in her Covington Falls Chronicles series, Imagine That. I absolutely love this cover! Take a moment to read Kristin's blurb about Imagine That, and then we'll ask her about what inspired the book and her writing process.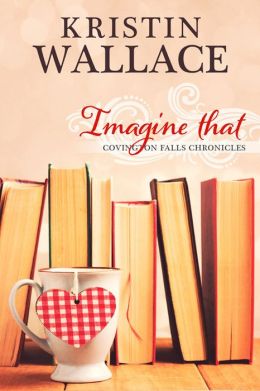 Blurb
Children's author Emily Sinclair was supposed to be the next J.K. Rowling…Until her second book flopped and her imagination went on the fritz. Like the storybook heroes of her childhood, Emily sets out on an epic adventure to find inspiration again. Till a dead car lands her in Covington Falls, a small, Southern town with a healing power of its own. Soon Emily is taking up her quest, looking for inspiration driving a mobile library van, as a companion to a crotchety old woman and her insomniac dog, and as a very ungraceful baker's assistant.  Of course, what really sparks her romantic fantasies is a valiant hero, though he yields a paint roller instead of a sword.
Rugged, blue-collar Nate Cooper has spent most of his life avoiding the printed page. These days he doesn't have much use for fancy words and certainly not for a slightly off-center writer on the lam. Not when his mother is battling cancer, his little brother has morphed into a teenaged ogre, and God seems to have taken a vacation.
On paper, these two would seem the least likely pairing, and a happily ever after nothing but fantasy. But with faith and imagination Emily and Nate are about to write a new chapter that will lead to unexpected love.
CL:   What inspired the idea for Imagine That?
KW:  I'm not always able to pinpoint where an idea comes from, but with IMAGINE THAT I do have an origin story. I was sitting in a movie theater and a preview for one of the Harry Potter movies came on. I started thinking what would happen if J.K. Rowling couldn't come up with another story idea? How does someone come up with anything that could match the earlier success? So I had this idea of a children's book author who had phenomenal success with her first book and then the second pretty much flopped. Now she has lost her inspiration and is on a mission to find it again. That mission lands her in Covington Falls.
CL:   Tell us a little bit about your writing process. Do you outline before you begin to write or are you a pantster?
KW:  I do plot, but usually not right away. I like to just sit down and write a chapter or two first. It helps me get to know the characters. I find their voice and the traits that make them unique and fun. Then I go back and do my plotting. I mostly work off a detailed outline where I highlight the different plot and turning points for each element (external plot, internal growth, romance, and in the case of the Covington Falls books a spiritual journey as well). 
CL:   What was the most difficult part of writing Imagine That?
KW:  IMAGINE THAT contains probably the darkest subplot I've ever written as the hero's mother has terminal cancer. I knew the end of that story very early on, and in fact, the mother's last scene was actually one of the first scenes I wrote in my mind. Actually writing it was wrenching. I still cry every time I read it (and at this point I've read it at least 2 dozen times through various edits and such). While I was writing with the book I struggled with the darker elements and feared the story was getting too depressing.  To counter that I ended up injecting one of the other supporting characters more and more. My heroine gets a job as a companion to a cantankerous old lady and the two of them have these wonderful verbal spats. Every time I brought the old lady into a scene, it immediately lightened the story itself.
CL:   Tell us a little bit about your journey to becoming a published author.
KW:  If you notice my inspiration for IMAGINE THAT came from watching a preview for one of the last Harry Potter movies. I'm not even sure if the final book had been published yet. That was several years ago now. And this book is the third I one I completed. There were two other books in the series that I had already written. I shopped them around through my agent but they didn't sell. So they sat in my computer until last year when I participated in an online pitch sponsored by Savvy Authors. I pitched the first book MARRY ME to two publishers and got two requests. Both offered to publish and I chose Astraea Press. That book came out in October 2013, the second book ACTING UP just released in April. 
CL:   What advice would you offer aspiring writers on the writing business?
KW:  My first piece of advice is simply to finish the book. Even if it is terrible (and most first books are pretty bad to horrible) and you never do anything with it, finish it. I don't know how many people I've met who start out saying they want to write, but then they can't get over the hurdle of finishing. Finishing will prove to yourself that you can do it. Then the next book will be better. The other advice is to do something with the finished book. I've also known the writers who will edit and fix and tinker and edit and fix forever. It may be years. They can't let it go and they never end up sending it anywhere. At some point you have to let your baby out into the world to be judged. Let it go and move on to something else.
CL:   Any special tips for writers who are juggling writing with raising a family, working a day job or just everyday life in general?
KW:  If any of you can give tips on juggling the day job and writing I'm open for them. I still struggle with that. I don't have a family but my job is very demanding with long hours that have me sitting at a computer writing all day. So by the time I get home the last thing I want to do is sit down at a computer and write more. I just try to write when I can. Unfortunately, I am not a early morning or late night person. My life would be so much easier if I was one of those people who could get up at 5am or stay up all hours.
 Growing up Kristin Wallace devoured books like bags of Dove Dark Chocolate. Her first Golden Book led to Laura Ingalls Wilder, Nancy Drew, Encyclopedia Brown, C.S. Lewis and the Sweet Valley High series. Later, she discovered romance novels and fell in love all over again. It's no surprise then that Kristin would one day try her hand at writing them. She writes inspirational romance and women's fiction filled with love, laughter and a leap of faith. When she's not writing her next novel, Kristin works as an advertising copywriter. Over the 15-year career in the ad industry, she has worked on clients that have included the Miami Marlins, Discovery Networks, Radisson Seven Seas Cruises, The Peabody Hotel and Sea World. She also enjoys singing in the church choir and worship team and playing flute in a community orchestra.
Covington Falls Chronicles: Marry Me (Book 1); Acting Up (Book 2); Imagine That (Book 3)
You can connect with Kristin Wallace at:
Website: www.KristinWallaceAuthor.com
Twitter:
https://twitter.com/KWallaceAuthor
Amazon Author Page: http://www.amazon.com/Kristin-Wallace/e/B00G5KX80I
You can purchase Imagine That from these online retailers:
Amazon: http://www.amazon.com/Imagine-That-Covington-Falls-Chronicles-ebook/dp/B00LFRC6L8/ref=sr_1_4?ie=UTF8&qid=1404233034&sr=8-4&keywords=kristin+wallace
 Barnes & Noble: http://www.barnesandnoble.com/w/imagine-that-kristin-wallace/1119886610?ean=2940149785476
Happy Reading!!!